Seven-day training course on academic leadership conducted in Jahangirabad Institute of Technology
Barabanki (UP):
A seven day training course on "Academic Leadership and Education Management" organised by UGC-HRD center of Aligarh Muslim University (AMU) concluded at Jahangirabad Institute of Technology (JIT) on Tuesday, December 22.
Dr. Manoj Kumar Tiwari, northern regional officer and assistant director of AICTE, who was chief guest for the event distributed certificates among all the participants of the training programme.
Talking to the trainees, Dr. Tiwari said, "Life is getting digital. The scope of information technology has broadened and is spread out all over. In such times, teachers should devote much of their time training them technically."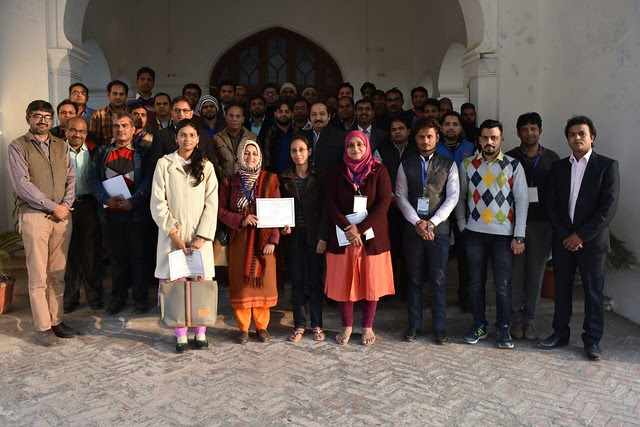 Dr Shahid Farooq, Professor, Department of Geology AMU said, "In such evolving and technology loaded time, we will have to help ourselves and take initiatives on our own. Technology adds up more to the life of a teacher."
Dr. Ejaz Farooqui, a representative from AMU, pushed for need of continuous updates in such a digital modern society.
During the valedictory session, the participants and the trainees also put their views and thoughts on the training programme.
On the concluding day of seven day training course, Dr Shahid provided training on "Cloud Computing and Technical & Communications."
He said that technology is changing and we should be changing parallel to these technical changes.
Dr. NR Kidwai, Dean of Engineering department and Dr. AK Mishra, Academic convener and Head of the Department of Applied Sciences were also present at the event with Dr. Ataur Rahman Farooqui.College employees and faculty members were also present.
The event was moderated by Dr Kaushhal Yadav of Department of Applied Sciences.
Jahangirabad Institute of Technology (JIT) under the umbrella of Jahangirabad Educational Trust Group of Institutions (JETGI) is promoted by a number of professionally successful Indians who are settled abroad and have come together to promote higher education with leadership skills to give back to the community through Indian Muslim Relief and Charities (IMRC).
Besides Engineering in Computer Science, Civil, Electronic, Electrical and Mechanical, JIT also offers MBA course. There is a separate Media Institute (JMI) that offers diploma and certificate courses in media and has the state of art studios and infrastructure.